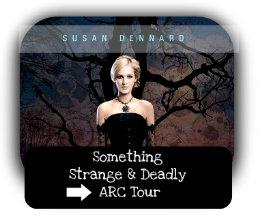 Are we ready to get the second SOMETHING STRANGE AND DEADLY ARC Tour underway?!  I am!!
To kick the tour off, I have a winner!  The very first person to get to read SS&D on this ARC Tour is…
Amanda at Sisters Unedited!!!
Congratulations, Amanda!  You will have an email from me shortly with details.
Now, I know many of you really want to get your hands on this ARC.  And what would an ARC Tour be without more participants?  Right?
Of course.  That's why you're going to have another chance to win a spot on this tour!  Yep.  Another raffle for one more spot, and later, something BIGGER AND COOLER is coming to give you EVEN MORE chances to read SOMETHING STRANGE AND DEADLY before it releases in July!!!
Can I get a SQUEE?! 
So, if you want to enter the next raffle, go to the SOMETHING STRANGE AND DEADLY ARC Tour page on my blog and sign up.  And keep your eyes on my blog and Susan's blog for details on the upcoming opportunities to join in the fun!  Trust me, you don't want to miss this!!