I'll tell ya, there's nothing quite like the exhaustion that comes from sitting in a waiting room for twelve hours.  That's what I did on Monday.  All is well, but my eyelids are still heavy.
Anyway, as I mentioned on Monday, I'm doing some real polishing on my WIP right now.  You know, the part where you realize EVERY OTHER WORD in your manuscript is AROUND.  lol
It's LIKE everyone's EYES are JUST looking AROUND to see SOMETHING.  As if you can't tell, those are my big offender words.  I was absolutely cracking up at myself in the waiting room as I realized how many times I can use AROUND in a single page.  Holy crap!
If you've never used WORDLE, do yourself a favor and check it out.  I plug my MS in and when the word cloud pops up it's glaringly obvious what I need to work on.  You would be amazed at how much tighter a sentence gets by taking out that one word.  Or how by reworking a few eye rolls into other actions can make the times your MC does roll her eyes much more meaningful.
I know this is probably the most tedious part of the revision process, but it's also when that WIP starts to glow.  So, this is your friendly reminder to keep your crutch words in check.
Tell me, do you do this in revision?  Do you find it helpful or do you loathe it?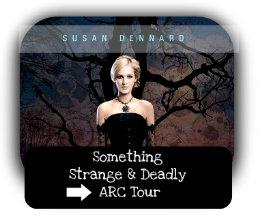 Make sure you don't miss the latest review in the SOMETHING STRANGE AND DEADLY ARC Tour from Katharine Owens!
And remember, you still have time to enter for a chance at a spot on the next ARC Tour, so go sign up!