Divergent

by Veronica Roth

In Beatrice Prior's dystopian Chicago, society is divided into five factions, each dedicated to the cultivation of a particular virtue—Candor (the honest), Abnegation (the selfless), Dauntless (the brave), Amity (the peaceful), and Erudite (the intelligent). On an appointed day of every year, all sixteen-year-olds must select the faction to which they will devote the rest of their lives. For Beatrice, the decision is between staying with her family and being who she really is—she can't have both. So she makes a choice that surprises everyone, including herself.

During the highly competitive initiation that follows, Beatrice renames herself Tris and struggles to determine who her friends really are—and where, exactly, a romance with a sometimes fascinating, sometimes infuriating boy fits into the life she's chosen. But Tris also has a secret, one she's kept hidden from everyone because she's been warned it can mean death. And as she discovers a growing conflict that threatens to unravel her seemingly perfect society, she also learns that her secret might help her save those she loves… or it might destroy her.
The one thing that struck me with this book was how incredibly real it all felt.  The world, the characters, everything about this society has a ring of truth as you read it.  Roth makes it easy to imagine that a society like this could exist in our future, and I think that's because of her intricate attention to detail.  Really, not a single bit of information was missed in building this future world.
Tris is probably the best part of it all.  Her character is flawed and easy to like, she's impulsive yet careful — she has all the contradictory, yet normal, thoughts and actions of any teenager.  That absolutely brings the story to life. 
Four is a huge part of the success of this story as well, in my opinion.  I won't go into any detail, as I don't want to spoil any plot points, but suffice it to say that he'll keep you guessing.
It's not often that a book sticks with me enough to take me there in my dreams, but this one did.  It crept into my thoughts for days after reading it, which tells you something right there.  If you haven't read DIVERGENT yet (sometimes I think I was the last one on this boat), then you should.  It is fantastic.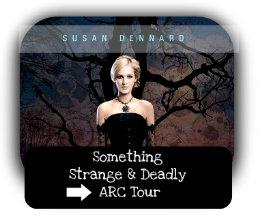 Also, I'd like to direct you to another review from the SOMETHING STRANGE AND DEADLY ARC Tour over at The Book Slayer, who says, "This book rated right up there with Divergent and Angefall."