Guess what!  I have fun ARC Tour related news!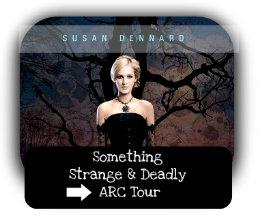 If you missed your chance to join in on the SOMETHING STRANGE AND DEADLY ARC Tour, or didn't get pulled in the raffle, it's your lucky day!  Susan has launched her brand new (and gorgeous) website for SOMETHING STRANGE AND DEADLY.
Even more fun though, is the scavenger hunt that's happening!  All around the site there are opportunities to find extra content related to the SS&D world AND the fabulous book trailor that Susan herself created.  But the best part is that you have a chance to win a spot on the ARC tour OR a pre-order of SS&D!
So hurry over and see if you can find all the pieces to the hunt!