Some of you may have already noticed, but just in case….
I'm hosting yet another contest for spots on the second SOMETHING STRANGE AND DEADLY ARC Tour!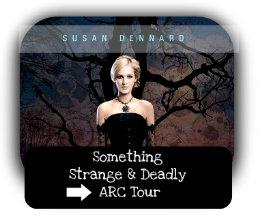 The fine print: **This contest is open for US residents only.  However, if you receive an ARC by other means or through NetGalley and want to join the tour, please email either me or Susan and we'll get you in the loop!**
Did you miss the bus on what an ARC Tour is?  Here you go:
I choose winners, line them up, and we ship the book from one person to the next.  So, it's shipped to you, you ship it to the next in line, etc.  After you read it, all I ask is that you take a minute to tell someone about it.  Blog it, Tweet it, put it on your Goodreads list, or just exclaim about it to everyone who comes within a three-foot-radius of you.  That's what I do! 
  (The only people seeing your address will be me and the person shipping the book to you, so it won't be broadcast into the stratosphere.)
How do you enter?  Right here!  At the end of the month, I'm going to pick a yet-to-be-determined number of winners from this pool, and there may just be even more opportunities for you to win!  So stay tuned, and good luck!